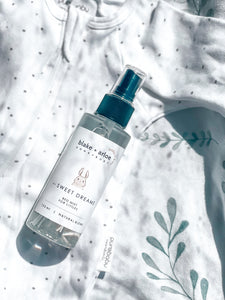 Our Sweet Dreams Mist is designed to get your little one to settle down & get ready for a good night sleep.

Give the solution a good shake and spray over linen, pillow and/or teddies to create the perfect environment for your kids to completely rest.

Perfect for little rascals.

Ingredients: Demineralised Water, Lavender, Mandarin, Marjoram & Bergamot Essential Oils.
125ml
Test patch on linen before regular use.
Made & packaged in the Yarra Valley, VIC.