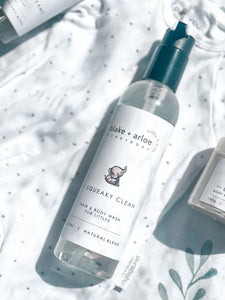 Our Hair & Body wash has been designed to provide a lovely, rich lather which uses gentle cleansing and skin enhancing ingredients.

It's perfectly PH balanced to soothe and clean even the most sensitive skin and is made from 80% coconut.

Perfect for little skin.

Ingredients: Purified Water, Salt (Sodium Chloride), Coconut Oil Fatty Acids (Sodium Coco Sulphate and Cocamide MEA), Citric Acid (Sodium Citrate), Organic Coconut Surfactants (Cocoamidopropyl Betaine), Stabiliser (Disodium EDTA), Glycerine, Preservative (Phenoxyethanol), Essential Oils.
250ml

Made & packaged in the Yarra Valley, VIC.