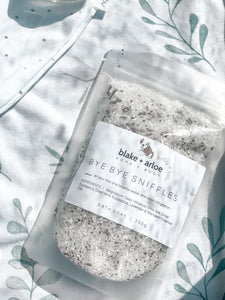 Our Bye Bye Sniffles Bath Soak is designed to let your little one breathe easier and ease congestion & runny noses.
Perfect for little boogers.

Ingredients:   Magnesium Salts, Himalyan Pink Salt, Dried
Eucalyptus, Dried Mint, Eucalyptus, Lavender & Mandarin Essential Oil
150g
Made & packaged in the Yarra Valley, VIC.