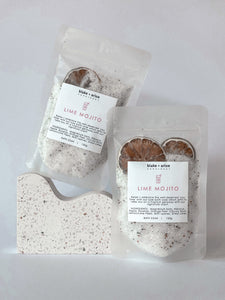 Relax + embrace the well deserved 'you time' with our luxe bath soak, which aims to take you on a tropical getaway with our signature scent. 


Place desired amount into a warm bath or spa, and relax. 

INGREDIENTS
Epsom Salts, Hibiscus (white), Apple, Rosehip, Orange Peel, Natural Flavourings, Chicory Root, Lemon Peels, Lime Peels, Mint Leaves, Dehydrated Limes.


150g bag of goodness.